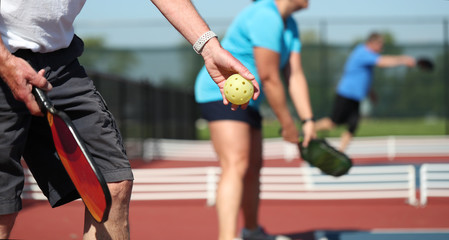 Social Activities at Malloway Village
Living in a like-minded community is great, but what's better than having a space to entertain family, friends, and new neighbours?
This summer Malloway Village will be working on the construction of our pickleball courts that all residents will have access to. Pickleball is a great form of light exercise for individuals of any age and is quite favoured by seniors. Pickleball is a paddleball sport that follows similar rules of tennis, badminton and table tennis and can be played in groups of twos or fours, making it an ideal game for couples and neighbours.
Malloway Village will also be working on the construction of our RV storage park this summer. With room to park your RV, no matter the size, you'll have peace of mind knowing your RV is nearby in a safe area that you can visit whenever you need.
In addition to the pickleball courts and the RV parking area, Malloway Village also offers a friendly and long-term community for its residents. Not only will you be surrounded by individuals of a similar age, but you'll be a part of a community of individuals who work to help one another in times of need. Maybe that means picking up the odd grocery item for your neighbour, or lending out a landscaping tool like a shovel, you can rest assured that you'll be surrounded by a caring and kind community. You'll find your friendships with your neighbours will flourish when you're at Malloway Village.
During the COVID-19 pandemic, Malloway Village is offering virtual home tours of our two beautifully furnished show homes. For additional information or to book an appointment to view our Show Homes in person, please email cliff@mallowayvillage.ca or call 604-961-5160.