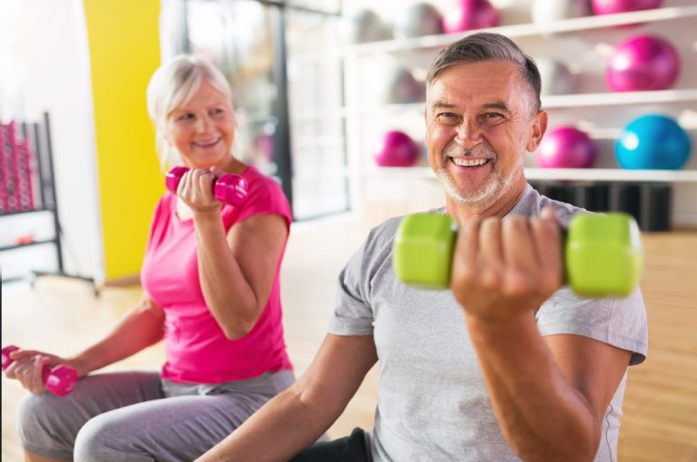 Our Top 5 Physical Activities to Practice in 2020
Happy New Year! A new year means new beginnings, and 2020 is a great chance to follow through on becoming a better and healthier you! We know many people have health and fitness goals on their list of New Year's Resolutions this year, but sometimes it can be hard to keep up with them. That's why we've created a list of 5 different physical activities you can integrate into your life for 2020.
Yoga
From added flexibility, to mindfulness, to breathing exercises, yoga can offer benefits at any age. As a muscle-strengthening activity, yoga can assist aging individuals in their day-to-day life by strengthening their core muscles and balancing abilities. In addition to these benefits, yoga also offers individuals time out of their day to focus on themselves, even if only for 30-minutes.
Zumba
Who doesn't like to let loose every once in a while?! Zumba is a fitness program created by Alberto Pérez in the late 1990's. This form of exercise incorporates interval training by alternating fast and slow rhythms to Latin and international music with dance moves in an up-beat and positive atmosphere. Some benefits of Zumba include calorie burning, boosting your heart health and improving coordination.
Walking Groups
Joining a walking group is one of the easiest ways to stay physically active. Not only does it offer you exercise, but it also offers you a support group of individuals who are striving for the same goals as you – to age in a healthy manner.
Golf
Golf is a great low-risk exercise option for individuals looking to maintain an adequate level of exercise. Though most individuals shy away from extreme physical activities like cycling and long-distance running, golfing is a great option for those looking to participate in a group activity. In addition to these physical benefits, golf also offers neural benefits in the form of strategic thinking.
Simple Strength Training
If joining a walking club or attending a class at a gym doesn't fit your schedule, you can always practice at-home exercises. Investing in a small set of weights can really go a long way as an easy and inexpensive option. Whether you're lifting 5lbs or 15lbs a couple of hours a week, you're bound to see a positive difference in your strength when it comes to day-to-day tasks.
Now that you've learned of some exercise options for your lifestyle, what else are you waiting for? 2020 is your year, so it's time to make the most of it!